Elliot Frost
INBOUND Content Solutions
ABOUT ELLIOT FROST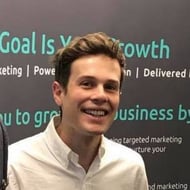 With a proven thirst for simplifying complex ideas and turning them into compelling stories, it is my passion to bring clarity and credibility to your writing. I believe that providing educational, engaging and exciting content that helps your buyers overcome their research problems and achieve their goals is key to improving your business copy.
Whether you are looking for a strong CTA to convert bottom of the funnel leads or need help writing an informative blog that captures the attention of top of the funnel prospects, I would love to discuss your ideas.
CONTENT
Buyers are more independent and empowered than ever. The digital world has shifted how we buy. Today, buyers choose where to spend their money based on their own research.
To attract customers in today's saturated marketplace, your content needs to help buyers overcome their challenges and achieve their goals.
Continually serving your ideal buyers with relevant content that provides value creates evangelists for your brand. And with with word of mouth being so crucial, good content marketing is fundamental to attracting high quality leads.
Services Available
Website copy - LP's / TY / Emails

Blogs - Copy, Optimisation, Design

White-paper

Ebooks

Promotional content - Flyers / Trifold etc

Social media monitoring and engagement

CTA's and

tag-lines
QUALIFICATIONS
BSc. English Language, Aston University
HubSpot:
Inbound Marketing Certified
Content Marketing Certified