a foundation layer for building your online visibility
This is an ideal service for a local business which services a geographical location. An extensive set of marketing tasks, customised per industry and location, to optimise your online marketing, the HubDo Portal tasks ensure your SEO Foundation is solid. Our Team of SEO Specialists have extensive experience and will efficiently complete these tasks week by week throughout the month. Reports are auto-generated to enable data review as required by the client, e.g. mid-month, and/or end-of-month etc.
NOTE: *This is a Basic SEO fundamentals service and does not include SEO Specialist services or individual Specialist reporting.
About HubDo Portal
HubDo Portal provides the foundation layer for building a websites online visibility. Business and Social listing (or Citations) are a big factor in visibility for small businesses and the portal caters to this, for all industries.
Containing hundreds of tasks customised as a workflow to suit your location and industry, the HubDo Portal supports a Do-It-Yourself (DIY) approach using your own time and resources, or a full Done-For-You (DFY) SEO service where a member of our SEO team completes these tasks for you.
Each Portal task includes:
About: This drop-down info describes the importance of the task and it's impact on your online visibility.
How To: This section describes the steps needed to complete the task.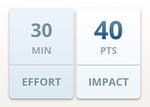 Effort & Impact: Each Task also includes an estimated time/effort value, which indicates approximate time required to complete the task. The Impact is valued in PTS - Points. This value indicates the impact this task will have to the online visibility of your website.

**PLEASE NOTE: The PTS Points DO NOT relate to the number of tasks completed. Points relate to the VALUE each task has on impacting the online visibility of the website. (DIY Support via https://help.hubdo.com/ only).
HubDo Portal provides complete transparency of reporting for tasks completed each week. With comprehensive daily, weekly and/or monthly reporting. It's your one-stop portal for completing and measuring your marketing progress.
FOUNDATION SEO dfy Product Deliverable
The HubDo Foundation SEO Service includes an experienced SEO team member to undertake the completion of tasks in our software Portal. To complete the whole service of around 300 SEO tasks will take between 6 to 8 months depending on the size of the website and industry competition. Ongoing tasks for the client include Blogging and Social Marketing (not included in the DFY service).
Note: We require 30 days notice of cancellation or change to this service. By filling in the form below you are agreeing to these terms of service.
What if I need to pause or cancel this service?
As there is a Setup Fee for getting started on any SEO service, you have the option to downgrade the account to a DIY monthly fee if you need to pause or cancel the services. The DIY fee will maintain the history of tasks, citations created and keyword ranking positions etc, already achieved. Please confer with your SEO Specialist and our Controller to ascertain the situation and recommendation regarding the account and cost to maintain this history.
If the client decides in future months to recommence the SEO service, and we have maintained the monthly DIY account, no further Setup fee will be necessary. However, if the account is cancelled completely and then requested to recommence in following months, a second Setup fee may apply.
How To Order From HubDo
Interested to get started with HubDo? Fill out the form below and we'll take you to our Foundation DFY SEO Brief.
Download the DFY Foundation SEO Product Description pdf here
We aim to prepare your quote and setup your own Basecamp account within 1-2 working days. If you need something more urgently, please email info@hubdo.com.