REVIEW SETUP AND EMAIL FUNNEL by hubdo
Online reviews matter in business. Reviews give a company greater visibility online and are insanely influential in converting leads into customers. This service enable a business with a review landing page or with a web widget designed to convert happy customers into reviewers and prevent unhappy customers from bad-mouthing a business in public.
The HubDo Reviews process for Reputation Management is designed to attract those all-important customer reviews for the Social Proof that reassures potential new clients. The HubDo Reviews service can be set up very quickly and the results are easy to measure through proof of new online reviews.
HubDo Reviews offer an easy and unobtrusive way to ask and remind customers to review your business on the sites that matter to you.
Below is a sample of a real Reviews client landing page showing the clickable buttons to popular Customer Review sites.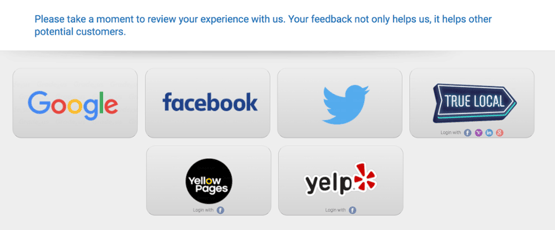 Why Choose HubDo Reviews?
Building online customer reviews is one of the most effective ways to improve your online popularity and consumer trust. Your customers need to spread the word for you. Once they purchase a service or product from you, it's out of your hands. Or is it?
HubDo Reviews will help convert happy customers into great online reviews. With a personal approach 'email flow' past customers can easily click through to Google My Business, Facebook Reviews, Twitter and lots of other sites that really matter. They even have an option to add the review directly to your website, if you prefer.
Our Reviews process also helps to recover unhappy customers at an early stage in the aftercare customer journey. This helps to prevent negative reviews and in many cases can turn an unhappy customer into the greatest fan.
With comprehensive reporting (additional cost) and monitoring email alerts for each customer review, HubDo Reviews can turn positive reviews into automated SEO-friendly Web and social media content.
Get your customers to spread the good word about your business for you. With HubDo Reviews, we will help you build positive online visibility and popularity.
Below are real time results achieved for a client since commencing HubDo Reviews email campaigns: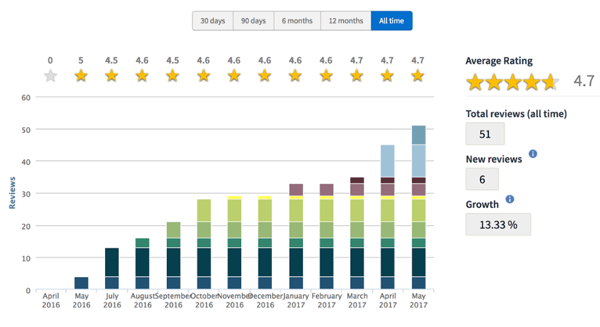 What comes with the HubDo Reviews Service?
Access to HubDo Reviews software and account dashboard

Custom landing page for customers where they leave reviews for the business

Automated and scheduled email send to customers to request, remind and instruct on how to review the business

Special notifications to business owner for below 3-star reviews potential which they can directly communicate and avoid negative reviews.

Monthly review gathering metrics and report data
How To Order
Interested to get started with HubDo? Fill out the form below and we'll take you to our Reviews Brief.
We aim to prepare your quote and setup your own Basecamp account within 1-2 working days, if you need something more urgently, please email info@hubdo.com.