And push your website higher in the Search Results.
Search Engine Optimisation (SEO) is the process of tuning a website to increase the odds of achieving higher rankings in the major search engines. Advanced or Intensive SEO Services are designed to address technical issues that will improve the performance of your website overall. There are no tricks or shortcuts to Search Engine Optimisation. Success ultimately depends on creating a site that is easy-to-use and has valuable content for users. A HubDo dedicated SEO Specialist uses their extensive knowledge and experience to accomplish urgent fixes and optimisation tasks that follow Google Approved SEO best practices including local search marketing strategies.
Search optimisation should be considered a long-term project — as the search engines evolve and your competitors improve their own positions, it makes sense to view your site as a live entity that needs to grow and adapt to this ever-evolving landscape.
Want to understand the digital landscape first?
We strongly recommend you start your SEO Service with a Digital Marketing Audit of the website. This audit will give you an insight into the 'foundations' of the websites' (and business') online visibility. Is it stable? Are there technical errors to fix first?
The audit is a comprehensive analysis of the practices, strategies, and outcomes a business has undertaken to establish and improve its online presence. The audit offers insights into the status of the business' online visibility and includes actionable steps for improvement. Contact us for more information.
The HubDo SEO Difference: Statement Of Works (SOW)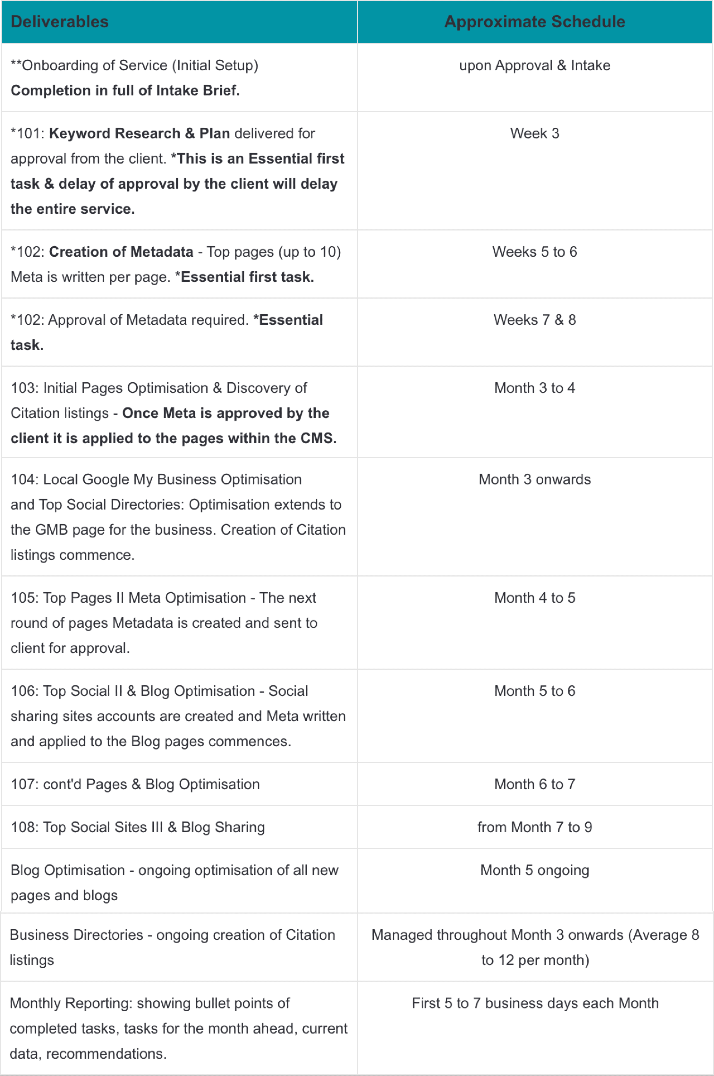 **NOTE: These monthly schedules are subject to change based on the delivery of collateral e.g. Access to accounts, Approval of Keyword Plan, Metadata etc.
Some competitive industries require a more intensive customised approach to Search Engine Optimisation in order to get the business into the spotlight on Google's Organic Search results. Hence the HubDo Intensive SEO has built a strategic experience with an SEO Specialist to analyse data and foresee any changes and issues. Your assigned SEO Specialist will analyse the competitive landscape and progress attained each month, setting out a month-by-month focus and reporting each month on the results achieved. Intensive SEO includes custom reporting from a dedicated SEO Specialist, recommendations, and a strategic plan, generated for you during the first 5 to 8 business days of each month. We also offer the option for a Complex Intensive SEO service for larger or e-commerce sites, please discuss your needs with Helen at helen@hubdo.com
Below is listed some (of many) tasks we undertake month on month:
Checking of Google Tools - tracking data correctly etc

Checking of Sitemap settings & submitting for indexing - ensuring the Sitemap is functional and organised for indexing.

Submissions to Google of XML sitemaps for reindexing - updated submissions as new pages/blogs are added to the site.

Testing of robots.txt file - testing pages can be scanned correctly
Checkup for correct canonical domain URL - www vs non-www or HTTP vs HTTPS - see more details on our

Blog
Validation of all versions of the website in Search Console
Creation of Structured Data for indexing - (schema markup) - ongoing
HTML audit and recommendations for improvement if needed
Setting up of new Goal Conversions in Google Analytics - we'll require the unique URL to set up a Goal
Recommendations for HTTP and HTTPS setting - SSL certificate config and application is an additional service.
Review of the Page Load Speed performance. (Speed Upgrade additional service)
Keyword review -

see more details here
Target keyword mapping for Metadata for any new pages/blogs etc
Metadata

creation - Page Title and Description - commencing with Main Menu pages and building out the month on month to subpages and blogs
Checking of Bing Webmaster Tools account
Bing submission of XML sitemaps for reindexing
Technical audit monthly for broken links, broken images, server and site speed, SSL errors
Clarifying the target audience and rankings for the business
Reviewing competitors - rankings etc
This SEO service includes an End Of Month (EOM) Report with data analysis, recommendations, and achievements from your SEO Specialist. You'll receive this report within the first 8 to 10 business days of the new month. We also offer a brief 'top three' bullet point mid-month update, if needed.
Note:
1. As Technical errors can occur regularly, the SEO Specialist has the freedom to defer ongoing tasks in preference of fixing errors and broken items on the website.
2. We require 30 days' notice of cancellation or change to this service. By filling in the form below you are agreeing to these terms of service.
---
Price: Setup & Monthly Retainer
Monthly ongoing retainer Local SEO = 3VP per month
Monthly ongoing retainer Intensive SEO = 4VP per month
Please Note: No lock-in Contracts however, we request 30 days' notice of cancellation of service. Our wholesale costs are subject to change at any time. As there is a Setup period for this service, (usually the first month), we request a minimum of 3 months for this retainer.
---
How To Order
Interested to get started with HubDo? Fill out the form below to set up your Agency Accounts and we'll take you to our Intensive SEO Brief.
By submitting the Intake Brief for this service you are approving the Intensive SEO Service to commence - click here INTAKE FORM
Please advise if you'd like us to set up and commence the service in the same month OR set up now and commence the monthly service from the 1st of next month.
We use Basecamp to manage our team communications. Please expect an invitation and/or confirmation of the new job from us. We aim to set up your account 1-2 business days, if you need urgent attention, please email helen@hubdo.com.
Download the Intensive SEO Product Description pdf here.
---
Need to pause, cancel or change a current service?
Please complete the form here.
As there is a Setup Fee for getting started on any SEO service, you have the option to downgrade the account to a 'Maintenance' monthly fee if you need to pause or cancel the services. The Maintenance fee will maintain the history of tasks, citations created and reports related to keyword ranking positions etc, already achieved. Please confer with your SEO Specialist and our Admin to ascertain the situation and recommendation regarding the account.
Cost to maintain the account = 0.5 VP
Hence, if the client decides in future months to recommence the SEO service, and we have maintained the account, no further Setup fee will be necessary. If the account is cancelled completely and then requested to recommence in the following months, a second Setup fee may apply.
Once you submit the form a member of the Admin team will confirm details with you via email or Basecamp.