PandaDoc for HubSpot Partners (PD4HSP)
Exclusive for HubSpot Solutions Providers and Partners.
Special Licenses of PandaDoc for HubSpot Partners and their clients, to deliver Inbound Services with more functionality, integration, manageability and support at a lower cost.
Learn how your Agency or Consultancy can use these exclusive seats to deliver more value.
PD4HSP is a program launched in 2018, purely to help HubSpot Partners, managed by HubDo and supported by HubDo and PandaDoc.
Seats may be used purely for in-house use and resold for clients as managed seats and workspaces.
If you already have PandaDoc, you can also merge across your existing PandaDoc seat(s) for upgraded features at a lower cost.
Save Sales Rep Time to work on more deals

Improve Win Rate

Reduce Time to Close

Increase deal value with price table options

Reduce Customer effort to help them buy
Why PandaDoc for HubSpot Partners.
Purely because it is the Partner Community's favourite. In a recent poll of the HubSpot Partner Community Facebook Group, PandaDoc continues to stand out as the #1 choice for handling Proposals.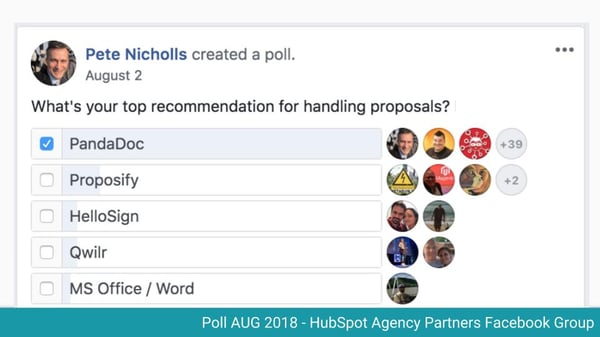 How do HubSpot Partners NORMALLY purchase PandaDoc?
PandaDoc is available in Individual, Business and Enterprise Plans:

The Individual Plan is for 1-2 people, for up to 50 documents per user per year, with no need for Content Library, CRM Integration or Zapier Automation.
The Business Plan integrates many CRMs including HubSpot. It also adds many more features including Content & Image Library and Approval Workflows.
This is the most popular choice for Agencies.
The Enterprise Plan adds Salesforce.com integration plus workspaces for separating sales documents from internal HR and Financial contracts, with the ability to share templates and content between workspaces.
How is PandaDoc 4 HubSpot Partners different?:
PD4HSP seats are Enterprise Plan seats for HubSpot Partners, at less than the Business Plan price and no onboarding fee. Plus:

Zapier integration without the extra fee.
No minimum, start with a single seat.
Multiple Workspaces to separate Sales, Demos & Admin
HubSpot Academy Pricing & Packaging Catalog
Facebook Support Group for HubSpot Partners
Ability to resell seats & workspaces to clients
Where Do I Start?

Pete Nicholls CF APMP
Director and HubSpot Certified Trainer
HubDo.com