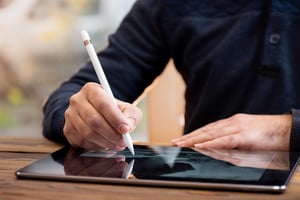 If your SaaS company needs a smarter way to submit business proposals, take payments, receive authentic signatures, etc., then you need a proper proposal management software.
Let's look at some of the most popular proposal generators and tracking softwares on the market for small businesses and help you find the right fit for your startup:
1. PandaDoc
PandaDoc is an excellent proposal software for creating proposals, quotes and contracts. This tool is used by over 17,000 businesses for contract renewals and to streamline the recruiting and onboarding process.
PandaDoc's proposal generation tool has a vast number of templates— hundreds to choose from— and drag-and-drop features to customize your documents exactly how you'd like. This software's neat, straight-foward layouts give your document the professional touch your business needs without distracting graphics.
It also integrates with popular CRMs like HubSpot, Pipedrive and Salesforce. This is ideal for companies who send proposals to prospects and want a system that can help to nurture and track leads, and convert them into customers upon signing. It also includes analytics features to track your proposal views.
As with any software, there are few limits with PandaDoc. For instance, only one user can work in a document at once, although the new editor version two is changing that, and it can be expensive (without the right partner; see our section below!). Read more about PandaDoc reviews here.
2. Better Proposals
Better Proposals wasn't made for big organizations; it was designed for small agencies to make simple proposals with no training necessary. You can choose from their Marketplace templates or create your own from scratch. Customize and save your favorite templates to use later.
Proposals can include the signature or payment features you need. Like PandaDoc and some other popular proposal software platforms, you can see when your documents was opened, forwarded or downloaded; you can even receive emails for near real-time alerts of when someone is viewing your file.
One drawback of this proposal automation tool is that it only allows one client to e-sign, when sometimes you need two or more signatures. They've also been known for having incompatibility issues with Chrome users and complications with integrations, according to the reviews.
3. Proposify
Proposify is an easy tool for creative companies, as it offers a ton of design control. The interface is drag-and-drop style, reminiscent of Adobe's InDesign and is very easy for those familiar with that program to use.

This proposal management software allows you to add images, videos and more to spice up your proposals, quotes, contracts, etc. Many agencies state that it could save up to two hours in Word, Google Docs or another design editor.
Users enjoy Proposify's analytics side, which allow you to see the highest viewed sections of your proposal, how many times it was opened and how long the reader spent in the file.
Some cons of this software include confusion with how the platform saves content pieces within the documents themselves during design, text formatting problems and a lack of editable template options, according to reviewers.
HONORABLE MENTION: DocuSign
DocuSign isn't exactly a proposal management software; it's more like a document signing tool with a built-in editor.
Upload a document and add tags to indicate where the reader should sign, and even jump to the next required field to eliminate searching. Signature fields can also be embedded on web pages with the help of this tool.
The small list of drawbacks to this platform include confusion around submitting final signature (like users missing the Submit button) and its limits on customizing unique templates, according to real users.
The Inbound Community's Preferred Proposal Software, For Less
Here at HubDo, our mission is to give good business an unfair advantage— and we want to give your SaaS startup the edge it needs to succeed.
We provide excellent rates and service for PandaDoc, our number one rated choice for proposal management software. Get the "Enterprise Plan" of PandaDoc with no minimum seat requirement and no on-boarding fee (at less than the Business Plan price).
If you are aligned with a Startup Incubator, share this article with them to get you an even better deal and the ability for them to support your proposals process.
Talk about a good deal; no wonder it's the inbound world's preferred proposal software! Learn more about the benefits of choosing PandaDoc with us, today.