It was a fair question really and came from a frustrated business owner who went on to say that he thought that marketing was,
"A virtual black hole into which you poured real money"! Hmm!
Further discussions with other business owners uncovered more frustrations along similar lines. One said that he thought marketing was nothing but a list of,
"Sound good, feel good, expensive ideas which produce little results that were impossible to measure."
I also found quite a range of what business owners felt constituted Marketing in their businesses. One said that he had no marketing budget but was actively marketing anyway. When pushed to explain, he said that the best marketing strategy he used was to staple his business card to his invoices!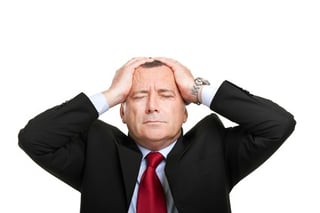 So many other business owners felt trapped into believing that their only options for marketing their business were limited to print advertising, flyers and letterbox drops and the occasional radio ad, all of which, they felt, were expensive wastes of time and money.
Those who were using the virtual world were just as frustrated!
"I have the best looking website of all the plumbers in town but the phone doesn't ring! If I didn't have the Real Estate Maintenance contracts in place, I would have to shut the doors!"
Many more related that they had a company to look after the optimisation of the website but it was expensive and the results were difficult to measure at best!
It was time to offer a better option to these struggling entrepreneurs! To show them that Marketing can be a system that they can apply to their business in the same manner as they could set up any other system in their business. It was time to show them,
The 7 Steps to Small Business Marketing Success using the marketing concepts of Duct Tape Marketing.
Create strategy before tactics
Too many business owners say "I need to be on facebook" or "I should start blogging" but they don't see any results because they haven't thought about why.
You want to identify your ideal client and figure out what your business does differently, then determine your tactics. If you do this well, you can make your competition irrelevant to the leads you are targeting.
Build your marketing hourglass
The traditional idea of a marketing funnel is broken. At Duct Tape Marketing, we visualize the customer journey as an hourglass instead.
The definition of marketing is getting your customers to know, like and trust your business. The definition of sales is getting your customers to try, buy, repeat and refer your business.
To create a better customer journey, begin by mapping out all of your customer touchpoints from Marketing, sales, service and follow-up. Then reverse engineer those touchpoints from 90 days after the sale. If you hold a customer's hand for 90 days, they'll be loyal for life.
Publish educational content
Use the publishing model to create a body of work that your customers can draw upon to trust you. Create this content using major themes and keywords, then distribute by blogging or on social media. The more you can educate your customers, the better customers they will be.
Total Online Presence
Use your blog and social media platforms together to maximize your marketing efforts. Use tools like Hootsuite, Feedly, Buzzsumo and Visual.ly to collect, curate, create, and share educational content for your customers. Then, engage your customers and invite them to share your content.
Lead Generation Trio
Your Lead Generation structure should consist of 3 pillars: Advertising, Public Relations and Referral Systems. When advertising, use narrowly targeted direct response advertisements that are easy to track. Use PR principles to manage your message through guest content contributions and story pitching to relevant journalists. Finally, take control of your referrals using customer champions, offers, tools and fostering a community among your customers.
Remember, lead generation is a process, not an event.
Lead conversion
Lead conversion is the x factor in determining a business' success or failure. So few businesses think about how to convert a lead into a sale. Build a process that creates a consistent buying experience.
Live by the calendar
Make it a process, and live by a calendar. Create and stick to a growth plan. If you know how much you get out of a quality new customer, and look at marketing as an investment.
---